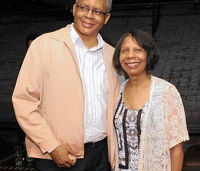 Johannesburg - The cities of New York and Joburg are a world apart, yet there are similarities in the difficulties their two police forces face.


Leaders in the police from the two cities exchanged ideas on racial integration on Sunday night at an informal party at Moyo's restaurant at Zoo Lake, hosted by private investigation company IRS Forensic Investigations.
The deputy commissioner of equal opportunity for the New York police department, Neldra Zeigler, who is in South Africa for a short visit, shared her experiences on racial and cultural integration with senior members of the police as well as the head of the Gauteng Hawks, General Prince Mokotedi.
Zeigler, who has worked in the New York police force in various roles over many years, said the police there had undergone a lot of training to overcome their prejudices.
Zeigler said they have had many incidents of insensitive behaviour, and in a multicultural city like New York, police had to know how to work with many different communities.
While they had made progress on the bigger issues, it was the little things that still tripped people up, such as criticising what people bring to work for lunch.
Chad Thomas, a director of IRS, laughed and said we had the same issue here. For instance, when someone brings left-over skopo (sheep's head) for lunch and warms it up in the microwave at the office, their choice of food isn't always popular.
Said Zeigler: "We are doing a lot of training on that. If you understand another person's background, it's easier to get along in the workplace, you work together as a team.
"It will take a whole lot of time though. I always say it's one thing inviting me to the party but it's another thing when you ask me to dance."
Another big issue they were facing in New York was that of transgender individuals.
"It's so simple; all you have to do is respect the next person regardless of what gender they choose to identify with. I find often the women are more resistant to those who are transgendering to the female gender.
"The women don't want to allow the transgender females in. I'm saying this person no longer identifies as a man, and we must accept that," she said.
Mokotedi said he found his conversations with Zeigler informative, and hearing about what the police in New York have done to help integration in the workplace had given him new ideas on how to tackle some of our problems.
"New York is a very cosmopolitan city, and while we have different problems, we can still learn from them," Mokotedi said.
"Our police force is quite rigid. They can be set in their ways, but we need to deal with these issues."
The general said that in some ways New York was ahead of us on things like transgender rights.
"In our culture that's almost a taboo topic, but it is through interactions like this that we can get some ideas on how to deal with prejudice," Mokotedi said.