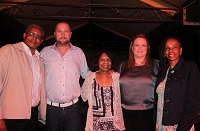 ZOO LAKE – SA crime fighters networked with NYPD police commissioner to exchange ideas.


The old saying that you learn something new every passing day proved true at a crime networking event held at Moyo Zoo Lake recently.

Dunkeld West-based private investigations company, IRS Forensic Investigations hosted an informal cocktail party for the deputy commissioner for equal employment opportunity for the New York City Police Department, Neldra Zeigler. "Crime is an issue that we all share around the world. So there is always something that can be learned from different law officials. It is critical to share nothing is unique. The world is without borders when it comes to the issue of crime, safety of the community and the country," explained Zeigler.

She previously held the positions of assistant deputy commissioner for Legal Matters, NYPD; assistant commissioner of Investigations and Trials; department advocate and discipline director, NYC Department of Transportation; and trial assistant, Queens District Attorney's Office.

The IRS offers a specialist range of risk-related services. These services include organised and financial crime investigation and intelligence gathering.
Chad Thomas, a director of IRS Forensic Investigations, stated that this was a great networking opportunity for law enforcement officials. "Although the deputy commissioner is visiting South Africa in her personal capacity, it was an honour to be able to host her as well as her South African counterparts."

Also in attendance were senior members of the South African Police Service as well as the head of the Gauteng Hawks, General Prince Mokotedi.

Mokotedi agreed with Zeigler with the statement that there is always something to learn when it comes to law enforcement. "It is important to exchange notes and make sure to keep up the interaction in the future. People need to remember that there is always something to be learned."

Among the guests invited was Advocate Jenine Khan who stated at the end of the day that it is all about crime prevention and making South Africa safer.